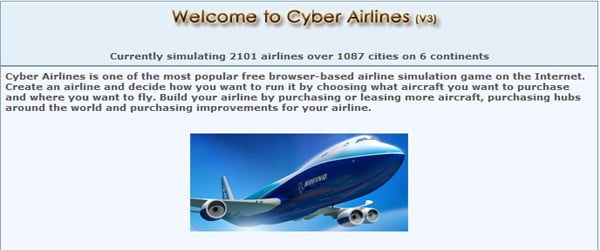 Cyber Airlines
Cyber Airlines is one of the most popular free browser-based airline simulation game on the Internet. Create an airline and decide how you want to run it by choosing what aircraft you want to purchase and where you want to fly. Build your airline by purchasing or leasing more aircraft, purchasing hubs around the world and purchasing improvements for your airline.



You can purchase cargo aircraft or passengers aircraft. Passengers aircraft will carry passengers and cargo on board, cargo aircraft can carry only cargo on board the aircraft.

Fly your aicraft all around the world and try to find the best route that will give you the most revenue at the end.
Advertising space for rent