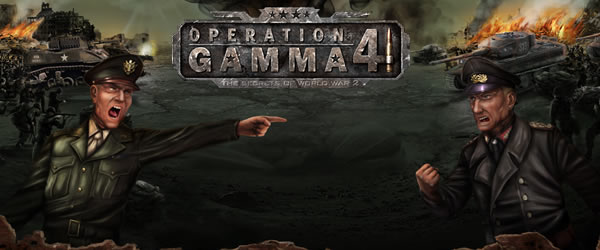 OPERATION GAMMA 41 CRIES VALKYRIE AND KICK STARTS THE SEASON!
New Merged Server Adds Excitement Just In Time For Advent Calendar Doors To Swing Open

Berlin, GERMANY - December 13, 2011 -- Just A Game, a rapidly expanding worldwide publisher of browser games, PC, console and mobile interactive entertainment, today announced an exciting merge of current servers for their popular browser-based War Strategy MMORPG, Operation Gamma 41. Named Valkyrie after the secret WWII mission of the same name, the combined server will support a larger number of legions and alliances, as well as increase competition for hotly contested resources.

Move over Tom Cruise, Valkyrie is about to be set ablaze with the hottest missions in World War II yet!

Players can log in now to find their territories have already been transferred hassle-free with no waiting to play!


Valkyrie also heralds the arrival of the OG41 holiday events. From now until December 24th, players can log into the game every day for special prizes via the advent calendar. Throw open the daily door to reveal a special mission for the day. Complete these missions for a special reward each day, with the largest of the special prizes to be distributed on Christmas Eve. The more doors that a player completes on their calendar, the bigger the gift will be. Finish every mission for the ultimate gift!


"The daily missions give players yet another reason to log in every day and allows them to shape the new server's story over the holiday season," said Patrick Walter, Product Manager of Operation Gamma 41. "Even if you can only play some of the days leading up to the holidays, players will be excited at the full lineup of gifts we'll be unleashing on Christmas day!"

Operation Gamma 41 is a World War II strategy-war game with a twist. Players will choose between Allies and Axis factions and brace themselves for a brutal encounter with an unknown faction. With its unique player driven storyline feature, players can actually influence the outcome of the game by casting votes and changing the storyline direction of the majority server. Operation Gamma 41 will feature competitive combat modes giving players the opportunity to challenge enemies in arena duels, single and co-op mode, create unique war heroes and participate in direct battle control.