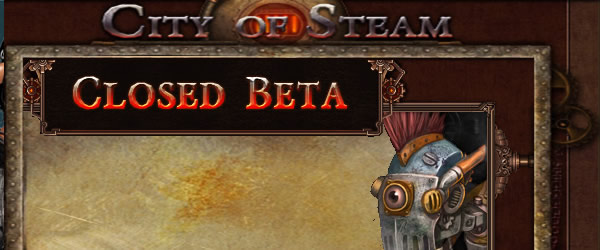 City of Steam
City of Steam is an upcoming, free to play title based on The New Epoch, a series of table-top books written by the co-founder of Mechanist Games, David Lindsay. Thanks to the highly popular Unity 3D engine, City of Steam is able to deliver high-quality graphics directly to your internet browser, removing the need for any time consuming downloads or patches.



City of Steam will feature 9 distinct races at launch, from MMORPG fan favorites such as Goblins and Orcs, to more unique races such as Ostenians and Avens. Each race has access to 4 different classes, Arcanist, Gunner, Channeler and Warder, each with their own set of powerful skills and abilities.



City of Steam prides itself on appealing to a large core of players, implementing features and mechanics to support casual play, while having enough depth and appeal to cater to even the most hardcore of gamers. Whether you want to run through quests solo, or with a group of friends, the attention to detail in the environments and the deadly selection available in the bestiary will keep you entertained for hours on end.



Players into the more competitive aspect of MMO gaming will be able to participate in intense PvP arena-based battles. Unlike other games that merely offer a leader-board or point system, your actions in City of Steam PvP actually have an effect on the surrounding world. Walk through a town and watch as NPC characters kneel before the higher scoring PvP players.



Featuring highly polished, dungeon crawling game play, City of Steam breaks the shackles that restrain the browser genre and provides players with great graphics, a variety of gear and item customization options, and one of the most intuitive game world designs seen in your browser.



City of Steam raises the bar for the free to play browser game genre, offering a variety of innovative features and mechanics, all supported by a highly intriguing storyline and excellently crafted graphics. A must play title for fans of the dungeon crawling genre.