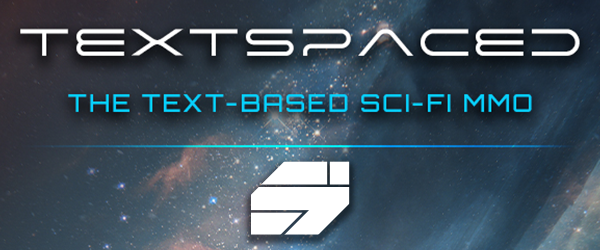 TextSpaced
TextSpaced is a FREE text-based sci-fi MMORPG. It has been designed from the start to be enjoyed by blind and sighted people alike (and everyone in between). It is set in an infinite one-dimensional universe (imagine an infinite ribbon) with original art, high-quality music and, mechanics built around the mantra of "tactical, not technical".



TextSpaced blends the style of more traditional text adventures with modern principles to create a game where everyone coexists in the same expansive universe, which is steeped in lore and intrigue. The entire universe is organic where everything is connected to everything else, every decision you make has a cascade of repercussions for you and your faction. The sandbox nature of the game leaves you, the player, the freedom to decide at any point what to do next.



With a unique personality system, you can unlock hundreds of skills to personalise your character with new ones being added all the time so that every player can walk a path different to everyone else.



The narrative and story of TextSpaced unfold seamlessly, so you can choose to uncover the mysterious past of Old Earth, affiliate and forge relationships meeting both real and non-player characters - or simply pirate yourself to fame and fortune. With hundreds of different ways to make a living and even the mechanics to make new things nobody has seen before, every player's experience is different and personal. Your actions influence your factors, simply continue doing what you enjoy to unlock new career paths helping your faction gain more control over the universe.



TextSpaced always has and always will be free to play. We want players to know that when a Flagship turns up, the owner has spent time and has skill to get to that point. There is the option to support the development via patreon where you can get some lovely perks/cosmetics in game (nothing pay to win).



The expansive universe is waiting for you!