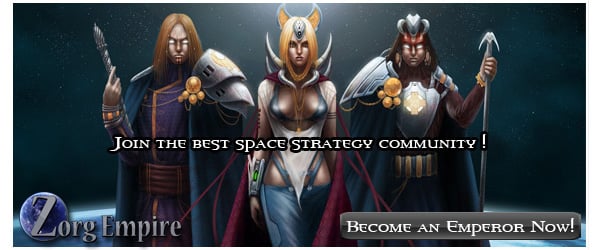 Zorg Empire Review
Published 17/02/2011 by
zorg














 

Zorg Empire MMORTS(Massively Multiplayer Online Real Time Strategy)In Zorg Empire you undertake the role of a galactic Emperor!You start with an empty single planet and your objective is to Become a Legend!





*Possible actions:-Build mines and harvest resources

-Build a variety of different buildings which help your empire in a different way.

-Research new technologies.

-Create Planet Defenses and defend against attacks from other players.

-Create fleets to aid in defense or use them to attack other planets.

-Create a colony ship and inhabit new planets.

-Create strong alliances to help your empire stand the test of time.

-Use espionage to get important information about your opponents.



-Create powerful fleets and rule the universe.-Many more

*Key Features:-Excellent Community-Thousands of Players-Alliance Combat System-Innonative Battle Engine-Amazing Gameplay-Fast game response times-Reliability-Dedicated Support-Constant updates-3 Universes to select

*Why you should join-Lots of fun-Fight boredom effectively-Make lots of new friends-Find your internet home-Become notorious and recognized by the community... become a Legend!








Advertising space for rent