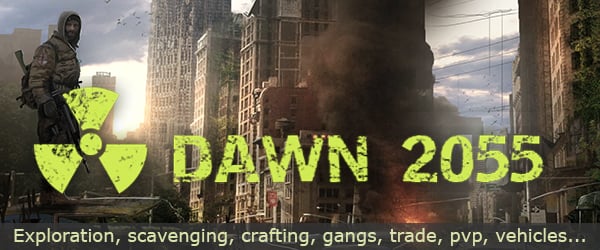 Dawn 2055 Features
Build your Character and Squad



Choose from several starting classes and develop your character as you wish - be it loud brute fighting with melee weapons or stealthy sniper hitting hard and deadly. Hire mercenaries and choose the combat tactics to strengthen your squad and roam the wasteland more safely.



Complete different missions



Find many different tasks to do - starting from simple everyday jobs to help people in new dangerous world to highly rewarding and profitable missions!



Travel the wasteland



Use strategic sector map and rediscover huge devastated world based on actual California and Nevada. Many areas are covered in deadly radiation, so prepare yourself before venturing deep in the wasteland. Find different items and materials in the remains of past civilization.



Craft the weapons and items



Use all materials found in wasteland to craft different items which helps you in fight or everyday travels. Create melee and ranged weapons, armor and equipment and use them to strengthen your squad or sell them to other players.



Trade



Buy or trade your crafted or found items to other players trough shops found in settlements. Search for profitable trade routes and make fortunes in forever changing player run economy.



Rebuild the world or spread the Fear



Join up with other players form gangs and factions. Make name of your alliance or gang known to other players by building and developing settlements or straight opposite - bring death and destruction to everyone!
Advertising space for rent