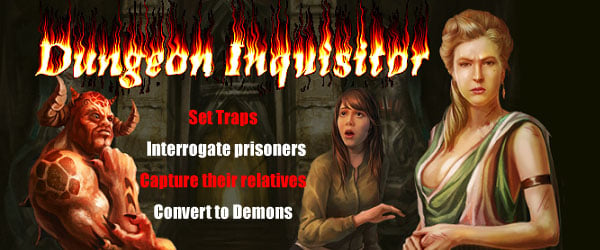 Dungeon Inquisitor
Adopt the guise of the Dungeon Inquisitor in this part strategy, part social game where you and every other player are the bad guys. The Dungeon Inquisitor is master of their dungeon where using a blend of traps, cunning and combat to fill your prisoner with men, women and heroes.

Using cutting edge natural language processing technology (chatbots), you "interrogate" your prisoners in the torture chamber to gather information to solve the puzzling relationship between items, prisoners and persons to figure out how to lure even more humans in to your Dungeon to fill your prisons.

The game is all about capturing and processing prisoners because they are the all important combination of bait and resource to grow your empire (the number and size of your Dungeon's rooms) and grow your army of creatures (summon new units).

Interact and socialize just like the real world: Inquisitors must actively build and collaborate with fellow inquisitors to build relationships and eventually alliances. And when relations go wrong, expect negotiations and resolution to get fratricidal as you pit the might of your dungeon against that of a rival Inquisitor.

At the end of the day, being bad has never looked so good.


What will you do as a Dungeon Inquisitor?

Trap, fight and capture human intruders from peasants to lords.

Interrogate your prisoners to get useful information to trap his/her relatives, to trigger quests or events.

Build up your own dungeon and army with converted prisoners and equipments. Each unit in your army is a unique character.

Make friends by following other players and getting followers.

Shorten the distance between you and your friends by helping each others. The distance of attack, reinforcement or delivery are dynamic based on the relationships between players.

Win the generous award for your followers in weekly contests.

Conquer the others to be the overlord.