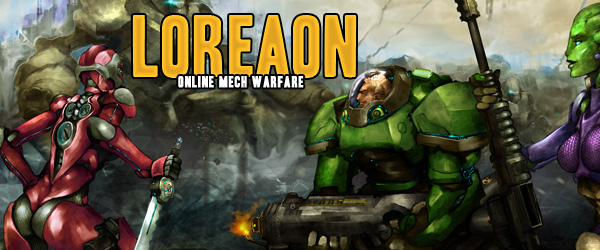 Minor Release 3.1 – Nano Wars & Legionnaires
Release 3.1 is officially live. This is a minor release, revamping two areas of Loreaon.

Below is a list of what has changed:

- League of Gul'Nak awards have been greatly improved. New,

league-exclusive items have been added. The range of players who get

something in the top ranks has also increased

- A new stat has been introduced in the Leagues of Gul'Nak called the

League Stat Rating. This rating is based on your total stats, including

gear, and Energems that have been socketed into your gear. The sum of

all of your stats is then compared to other players in your level range

(in your specific league). The difference will affect your final daily

League score. The greater your stats in your level/league range, the

greater boost you will get to your league score

- You now have the option to leave a league

- The entire N.M.B.G. system has been revamped. Units must now be

committed and assigned to a wave before they can be used in battle.

Larger armies will also have incremental daily support costs (armies

larger than 5000 units). Waves and battle formations have also been

added, that change the dynamics of a battle. A daily battleground will

also be present, which may or may not change your attack strategy from

day to day.

- Robot experience hand-outs coming from upgrades now scale (slightly) based on the robot model

- You can now use the site search feature to look for robots by model

- Typing "pm me" in chat or the forums will now create a direct link to send you a private message

- You can now preview your forum post/reply

- You can now unblock players directly from their profile page

- Added a new option to hide all messages from blocked players, even

alerts stating that a blocked player has made a chat or forum post

- 54 new achievements (we broke way past 200!) League and Merchant achievements are NOT retroactive.

 

The goal of this minor release was to bring more competition to the

competition centers of Loreaon (a radical idea for some).  N.M.B.G.

needed a new battle system, as the old one was dated, bulky, and too

linear. This new system brings a lot of dynamics to the battlefield, and

will allow players to have a lot more fun with their nano armies!